Connect x-cart to all sales channels
Multichannel selling is easy with Hubmaster
HubMaster connects your x-cart website to all your sales channels like eBay, Amazon and other x-cart websites. Our dashboard is easy to use. In no time at all, you can be selling your x-cart products on Amazon, eBay and other x-cart websites. Your inventory is automatically managed for you, across all your sales channels, freeing up your time to focus on other aspects of your business.
Make eBay listings in seconds
With our quick listing tools, you can make listings in seconds, with a free, profeesional template, using your existing images and descriptions.
First Month Free
Sign up today and get your free 30 day trial.
Automatic stock update
No more signing into multiple accounts to update your stock! HubMaster synchronises the stock levels across all your sales channels and your website.
All Orders in one place
Hubmaster pulls all your orders from eBay and Amazon into your website, and updates eBay and Amazon when they are dispatched, keeping your stock list up to date so you're not left with orders you can't fulfill.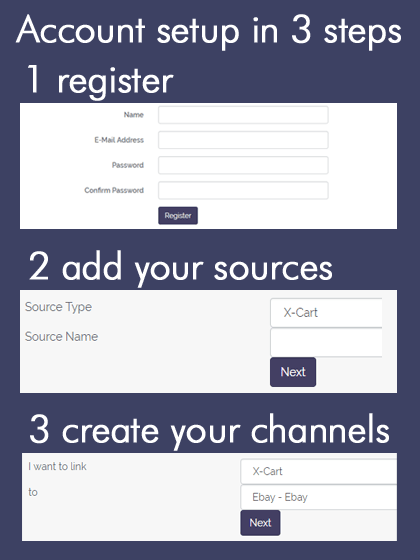 Easy to use
There is almost nothing new to learn, Hubmaster is based around your website admin panel. Use the information you already have to create new listings quickly and easily on ebay and Amazon.
Secure
Using secure connections, Hubmaster connects to eBay and Amazon and sends order information back to your website.
Simplify Stock
When you make an order anywhere, website, eBay or Amazon, all three places get updated, so you can sell all your stock everywhere, all the time without worrying about overselling.
No contract, no commission, cancel at anytime
No complicated integration to connect or disconnect from your website. We simply turn it on, and if you no longer need it can turn it off. No downtime or extra work for you.
"We would not have been able to list in bulk without Hubmaster, and it has transformed how many sales get on both eBay and Amazon, about 4 times as many sales this year, compared to the four years before."
-Peter Crane, Lookers Sunglasses
"The new module saved Oak Solutions very many hours when we started using the module to make variations of our eBay listings on our new website oaksolution.co.uk and allowed us to populate the new website in record time"
-Miles, Oak Solution