You can find answers to your questions here in a FAQs section
or you can click the link on the left if it's green for Live Support
or you can call us on 01302 325032
Mapping (2)
With the Bulk mapper working so well now, it isn't often that you come across an order with an unmapped item in it. So this is how you handle it.
Click on the item id which will be a hyper link
This will take you to the listing page, and there will be a link to the mapping page, usually via the sku code
Click the sku code and map the item.
Once thats done, return to the order, you may have to look in "not exported," and now you can export it
Here is a quick video to show you that process
Mapping all those listings can be a chore, but you can do them in bulk.
On your listings page, look for the "Bulk Map" link, click and you will see a list of unmapped listings,  matched to a list of website items.
The bulk map looks for the sku or product code in the listing on eBay or Amazon and then matches it with the one for the website. So this relies on you adding the sku or product code into the list. On eBay this is called the custom label field, and on Amazon the product code.
If you sell products with variants, this tool is not available yet
here is a screenshot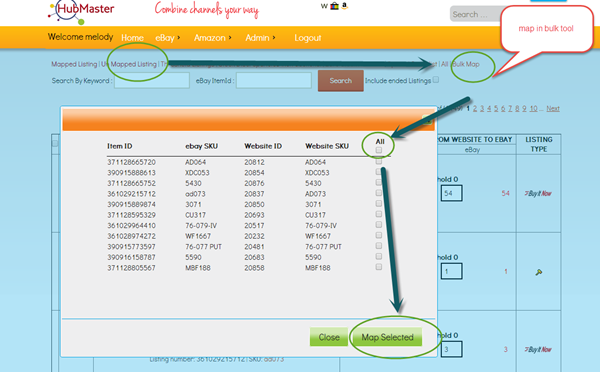 eBay Sales (1)
The shipping destination for the order is represented by a flag of the country and the currency the order was made in is shown next to it, have a look below at an example
Description Maker (1)
Hubmaster has a simple description maker for eBay, and this is a guide on how to use it. Happy to give refreshers, so call us if you get stuck.
We customise these description makers according to your requirements, so yours might look different.
There will be an automated listing maker later this year, so this tool is intended as a stop gap.
If you have used an Imagehoarder account for your images, the section for adding your image urls is slightly different.
Get ready
In eBay, find an existing listing which is similar, "create similar"
Hubmaster, go to eBay > eBay Listing Templates
Your website, go to the product page of the item you want to list
Populate the main details of your new eBay listing
Copy the product title from your website to the new eBay listing
On your website

open the detailed images
point at the images you want to use
right click and choose "save image as"

On eBay upload those images to the pictures section
Check the rest of the listing, apart from the description. Things like colours, type, postage, shipping etc
Populate the description part of your new eBay listing
In Hubmaster, click "Generate listing"
On your website

open the detailed images
point at the image you want to use, right click and choose "copy image location"
paste into the "Location" box in Hubmaster
if you want to use more than one image, then click "Add Another" and repeat.

Copy the product title from the Looker website and paste into the Hubmaster "Title" box
Copy the product description from Looker website, paste into Hubmaster "Description" box
Add the keyword to the "Keyword" box, this will generate the slideshow of related items.

Choose a single keyword that appears in the title of your other listings

Tick "Preview", Click "Generate"
Check the listing description looks ok

then select all the code and copy it
paste into the eBay description (html) box

in eBay click "Continue"